MedShr Medical Society Partnerships
MedShr empowers hundreds of medical societies around the world to reach, engage and educate healthcare professionals, and even to develop new revenue streams. Below are just some of the ways in which our partners use MedShr's HIPAA-compliant groups, medical learning technology, polls and notifications to meet their objectives.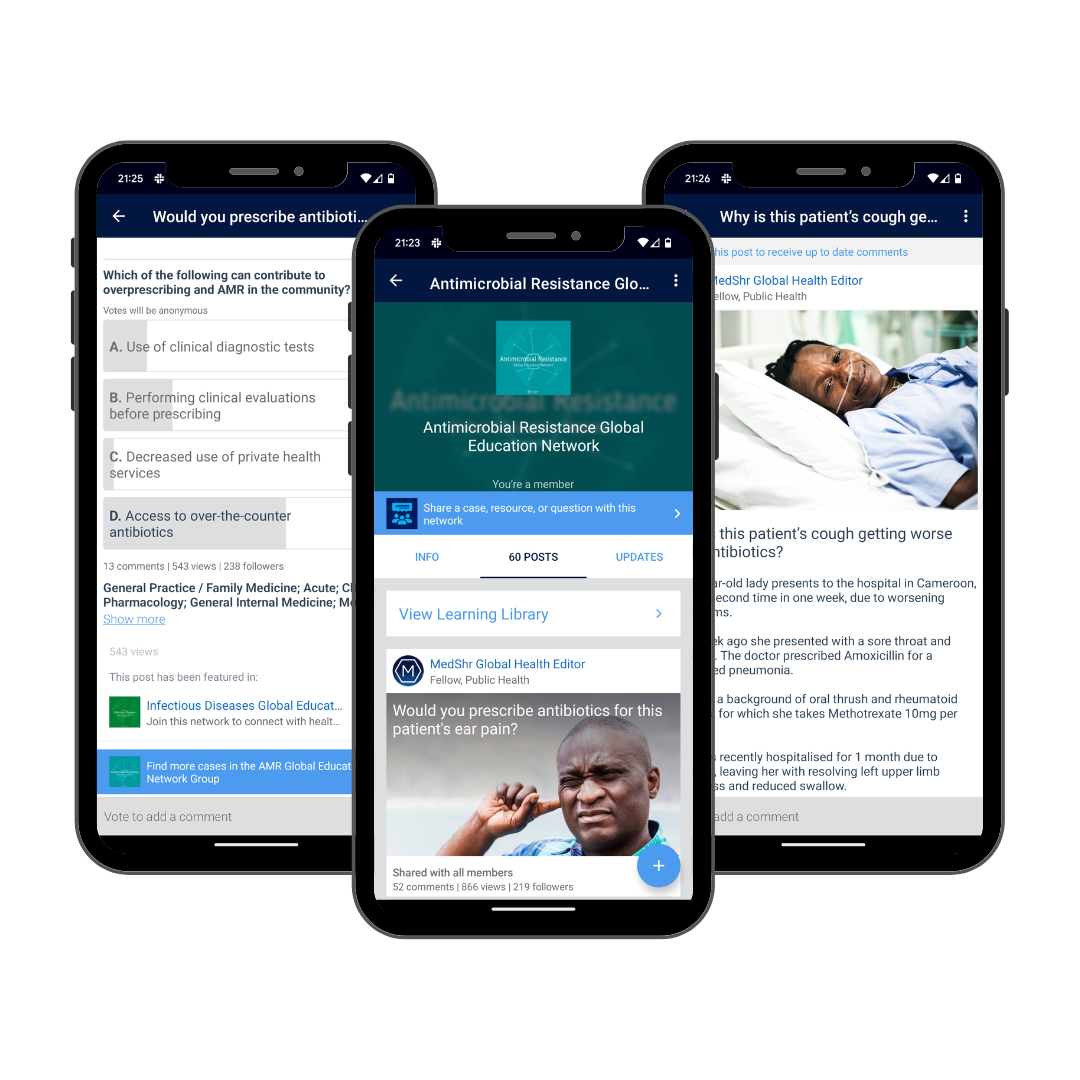 Global Groups to Reach 2.5 Million Doctors
As leading voices in the medical community, our medical society partners are encouraged to develop and promote free medical education content to those who need it most. We'll enable your faculty and educators to foster case-based learning and develop modules in any language, and to reach doctors worldwide through a global group, targeted notifications and specialty newsletters.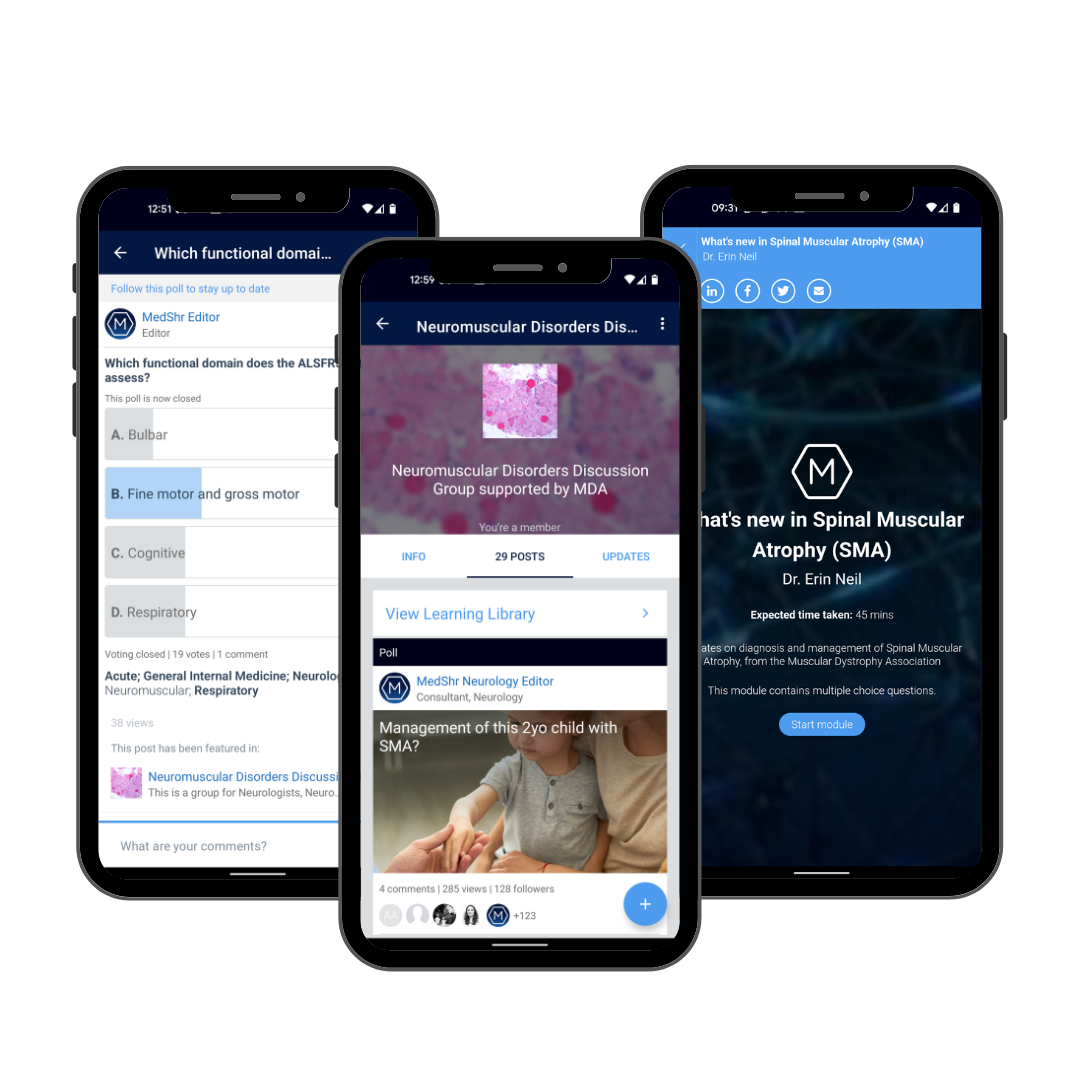 Private Groups to Engage Members
Our medical society partners are provided with a private group on MedShr, through which they can connect, engage and educate members. Group managers are empowered to post polls, updates, and multimedia educational content such as webinars and learning modules. Clinical members have full access to your group, our case discussion app, and award-winning educational programs.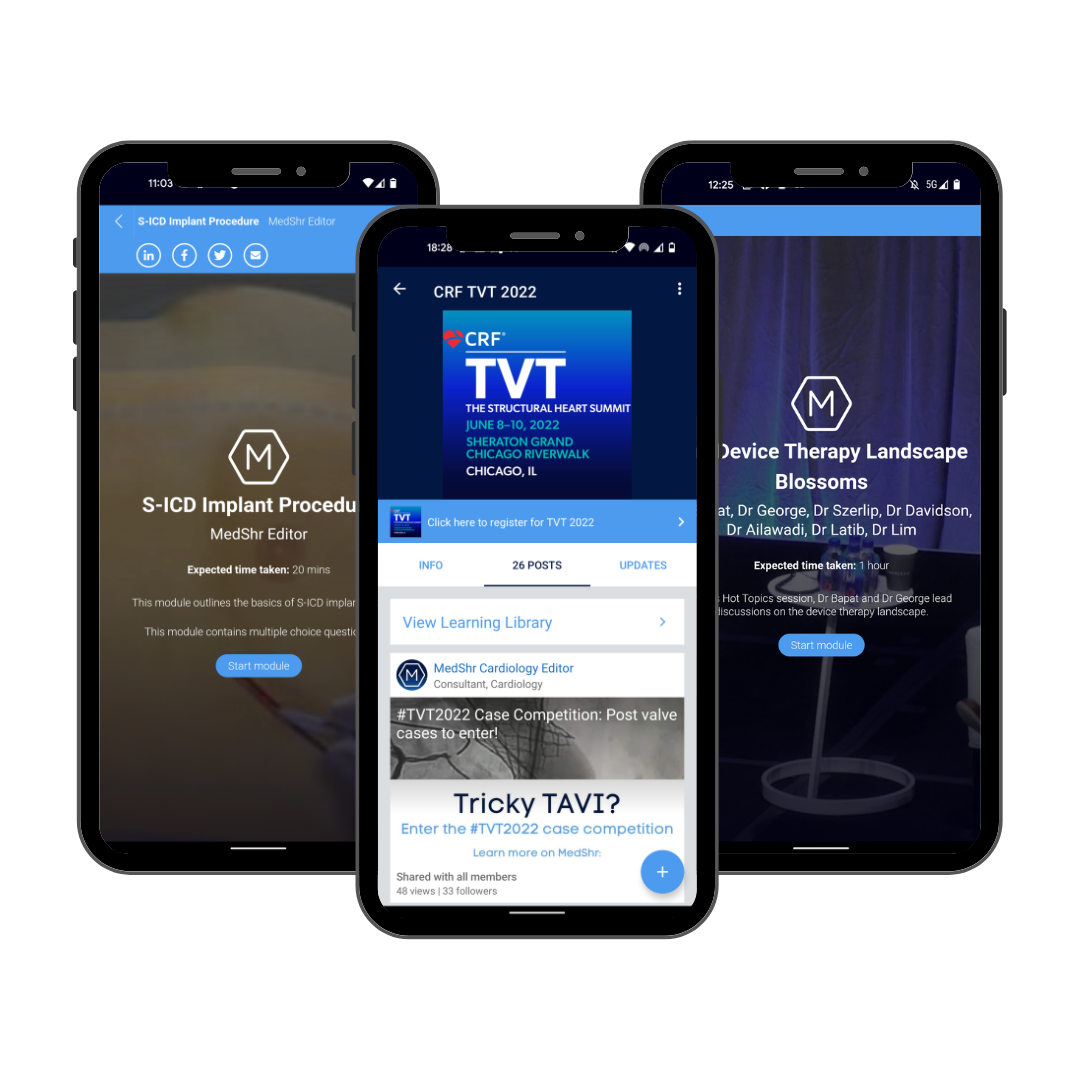 Conference Groups for Faculty & Delegates
MedShr is the perfect pairing for medical conferences and scientific meetings, providing an invitation-only space for faculty and delegates to connect. Education and events teams can poll delegates, post updates, promote conference recordings, and share expert insights. Our team works with you pre-and post-conference to boost registration and to extend engagement.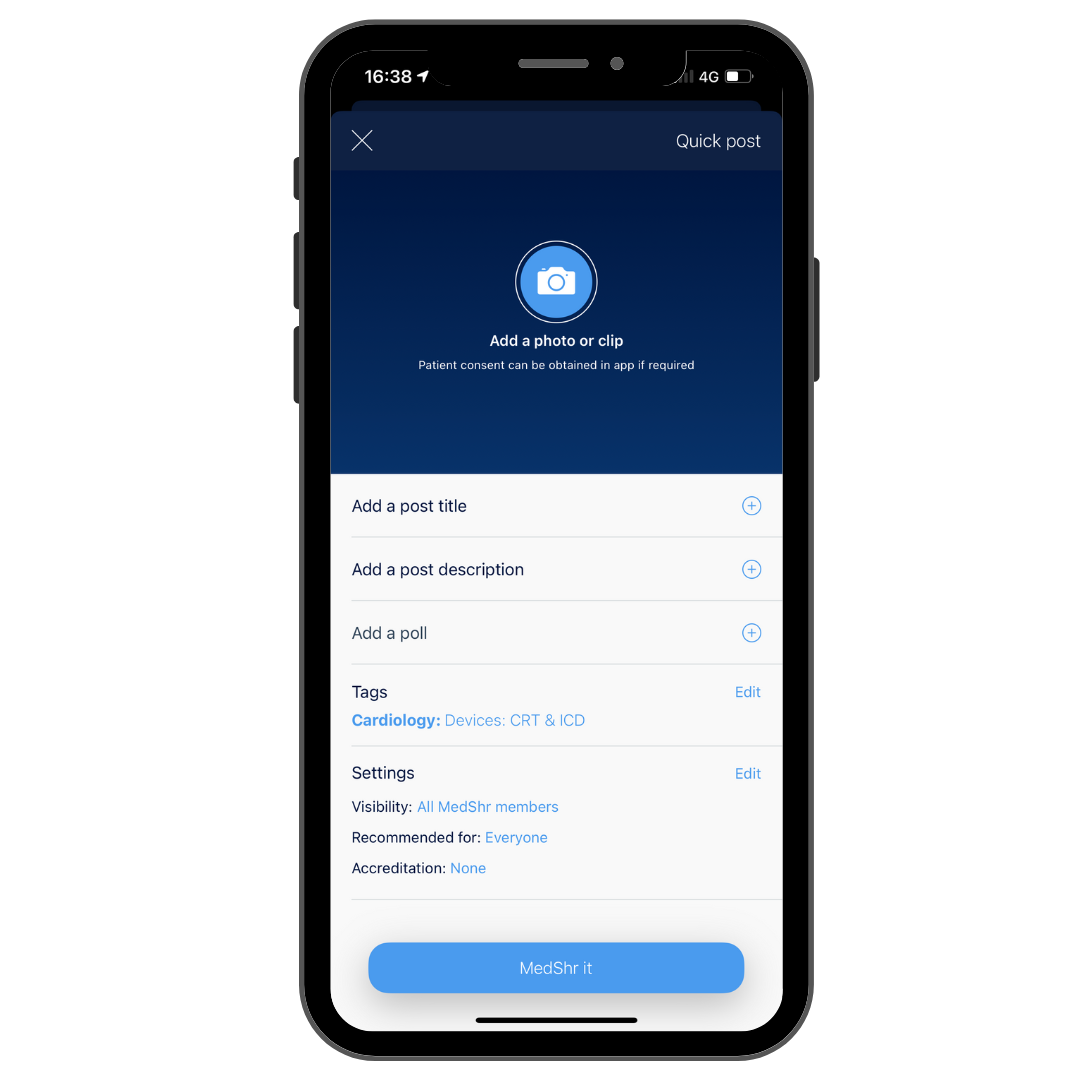 HIPAA-Compliant Case Discussion App
Verified healthcare professionals in your group(s) have full access to the MedShr app, including unique 'snap-post-discuss' technology for HIPAA-compliant case discussion. It only takes a minute to post a clinical case, and they have full control over whether it's shared with specific colleagues, members of their society group, specialist case discussion groups, or with our global community of over 2.5 million healthcare professionals.
Polls to Assess Educational Needs
MedShr's polling technology enables your faculty and education teams to quickly and easily assess educational needs to ensure that your medical education is tailored, outcomes-focused and designed to deliver meaningful impact. Votes are anonymous, and doctors are not paid to vote, so the results are an authentic gauge of current knowledge. Polls can include up to four possible answers as well as an image, video, PDF or data.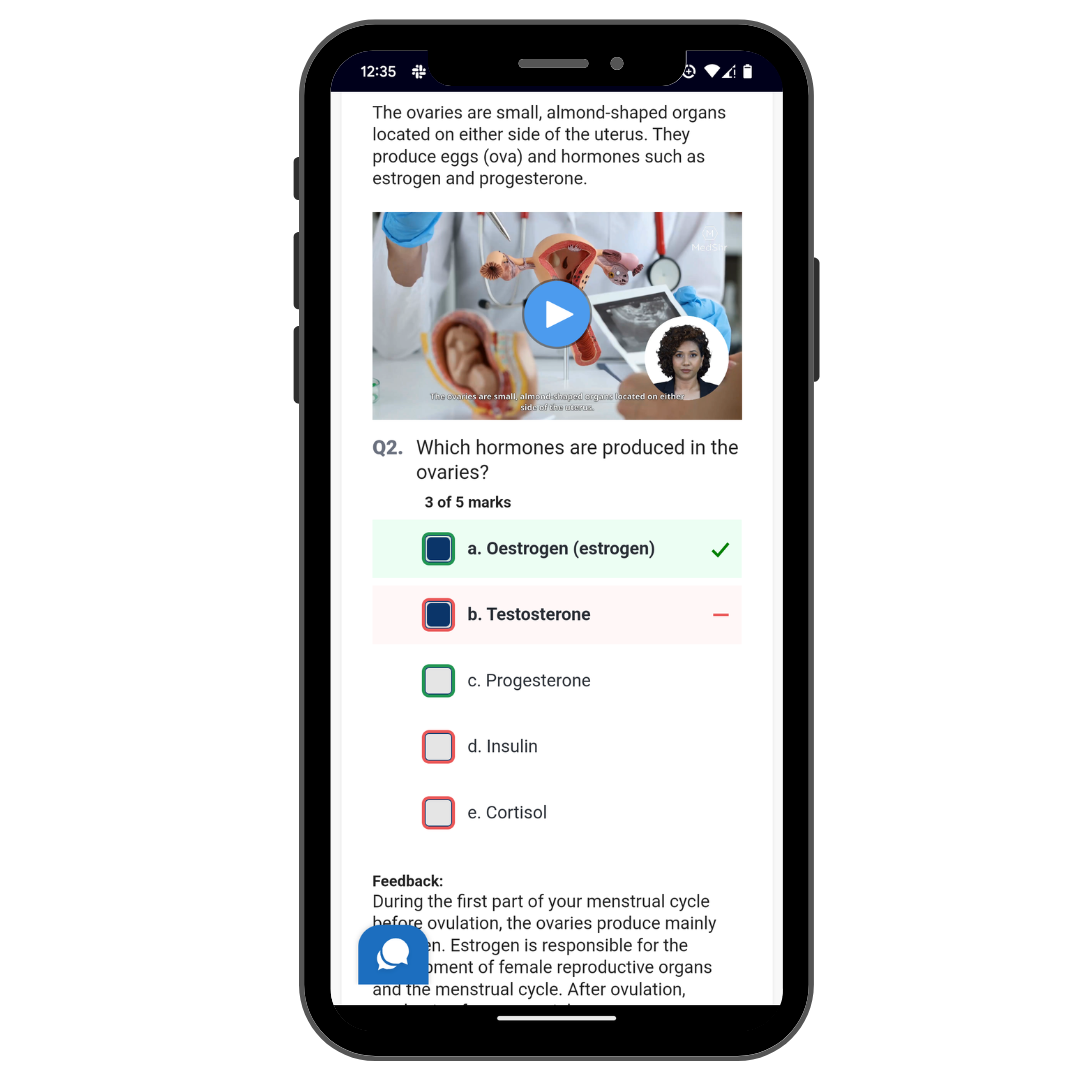 Interactive, Multimedia Learning Modules
MedShr Learning enabled medical societies and educators to quickly transform any educational content into engaging digital learning modules for your group members or the global medical community. Our intuitive technology allows you to combine any content (videos, PowerPoint slides, images, text, PDFs and cases) with multiple choice questions and PubMed references, and to enable automated marking, digital certificates and alerts.
Hundreds of medical societies trust MedShr. Here's why:

Secure and compliant
Unlike WhatsApp and social media, MedShr is a HIPAA-compliant platform for verified health professionals, with built-in technology for patient consent and privacy.

One-click activation for doctors
We enable free, fast-tracked access to MedShr for all of your clinical members. Choose from our One-Click Activation process, custom smartlinks or embedded feeds.

Global reach and meaningful impact
We collaborate with medical societies to educate doctors and health workers in low-resource settings. Your educational content can reach 2.5 million doctors worldwide!

Launch in one day, across all devices
Your group is hosted on the MedShr platform so we'll have your group up and running on iOS, Android and web within a day, with no need to involve your tech team.
This is the most exciting thing I've seen in a long time. New York Hemophilia Chapter | Executive Director
The Global Health program remains a key resource that we can rely on to effectively educate and engage all levels of HCPs at scale. Novartis | Global Head Medical Affairs & Chief Medical Officer
We've been delighted with the ongoing success of the hemophilia education program that we have funded, which has enabled MedShr to educate around the complex challenges that specialists face. Bayer | Senior VP, Hemophilia Global
Combining the power of the DocSearch specialized medical search engine with the expansive reach of MedShr's HCP-facing platform creates an unprecedented opportunity for putting actionable insights into the hands of physicians. Dr. Evidence | CEO
MedShr collaborates with medical societies to develop high-impact, commercially supported medical education
Medical Education Case Studies
MedShr enables medical societies and health systems to reach, engage and educate doctors, and to develop new revenue streams.
Book an introductory call and demo