MedShr Program Components
MedShr's award-winning technology is designed to enable impactful medical learning, whether it's through KOL-led case-based education, discussion and reflection in the medical community, or structured medical education developed in collaboration with societies and industry sponsors.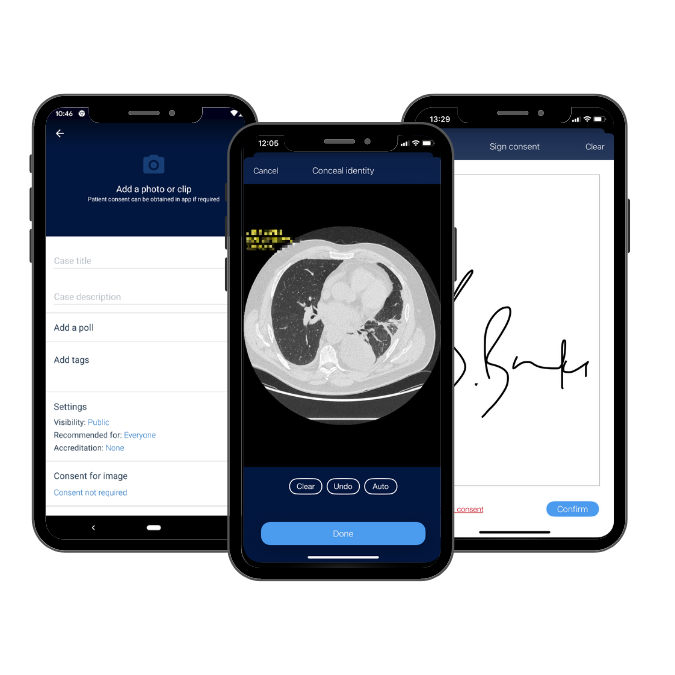 Secure Peer-to-Peer Discussion
Designed by doctors, for doctors, the MedShr app includes bespoke technology for HIPAA-compliant clinical case discussion. Doctors can snap, post and discuss medical images such as X-rays, angiograms, MRIs and more, alongside short medical history and questions for reflection. The app includes a secure camera, image editing to remove identifying information, and digital patient consent forms.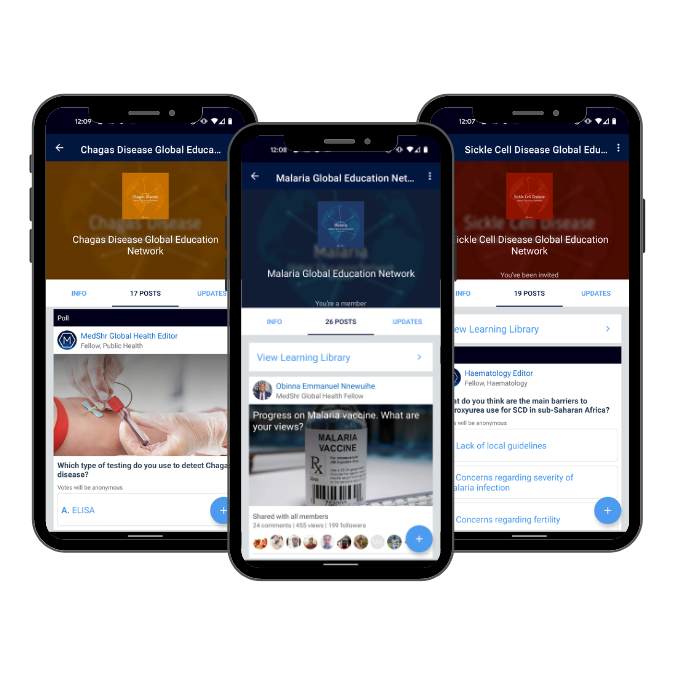 Groups and Digital Advisory Boards
MedShr fosters reflection and peer learning across a number of clinical specialities and therapy areas through secure, online groups. There are hundreds of groups on the platform, ranging from large disease awareness groups to educate HCPs at a global scale, to tumor boards to connect multidisciplinary teams, to small private KOL groups and digital advisory boards. Interaction is asynchronous, designed for repeated interactions at clinicians' convenience.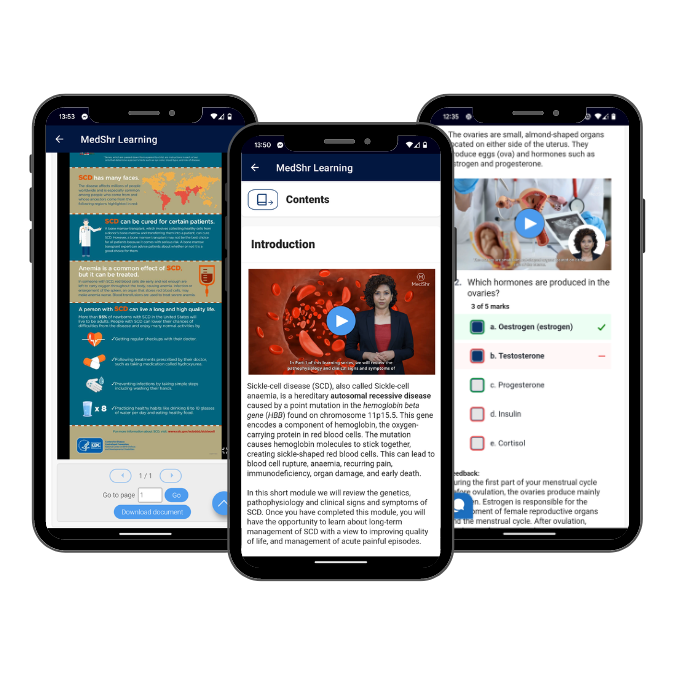 Interactive Medical Education Modules
Whether your objective is disease awareness or to show doctors the potential impact of new medical evidence, MedShr Learning is an essential component for many programs. This technology enables KOLs and medical societies to build highly engaging, mobile-first modules combining videos, PDFs, multiple-choice questions, clinical cases and more. Perfect for longer form content and explorations of guidelines, novel mechanisms of action, and rare conditions.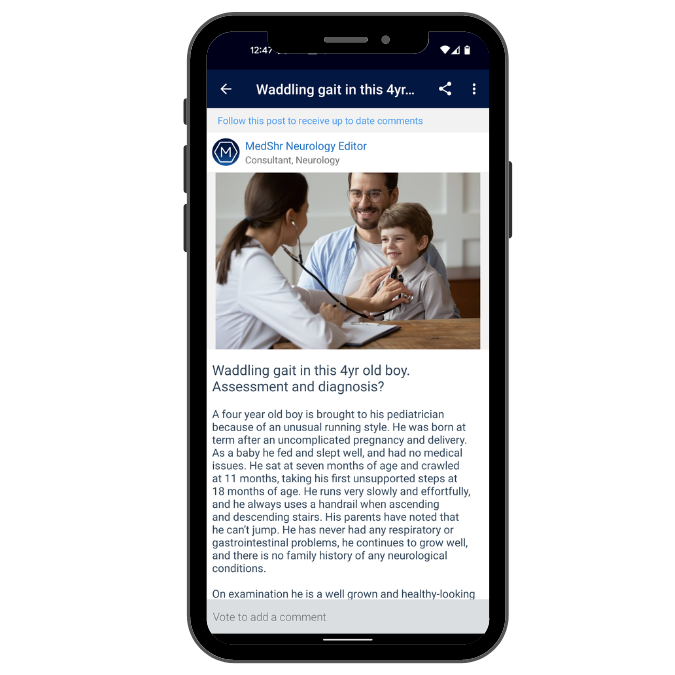 Educational Cases and Scientific Posts
MedShr's medical education programs typically include a series of well-researched scientific posts, summarising the latest medical evidence and clinical trials data. To show doctors how to apply the new data to their clinical practice, these are combined with clinical scenarios and educational cases. Content is developed by MedShr's clinical team in collaboration with KOLs, other subject matter experts and partner medical societies.
Polls to Assess Educational Needs
MedShr's polling technology enables our clinical team to assess educational needs to ensure that our medical education programs are tailored, outcomes-focused and designed to deliver meaningful impact. Votes are anonymous, and doctors are not paid to vote, so the results are an authentic gauge of current knowledge. Polls can include up to four possible answers as well as an image, video, PDF or data.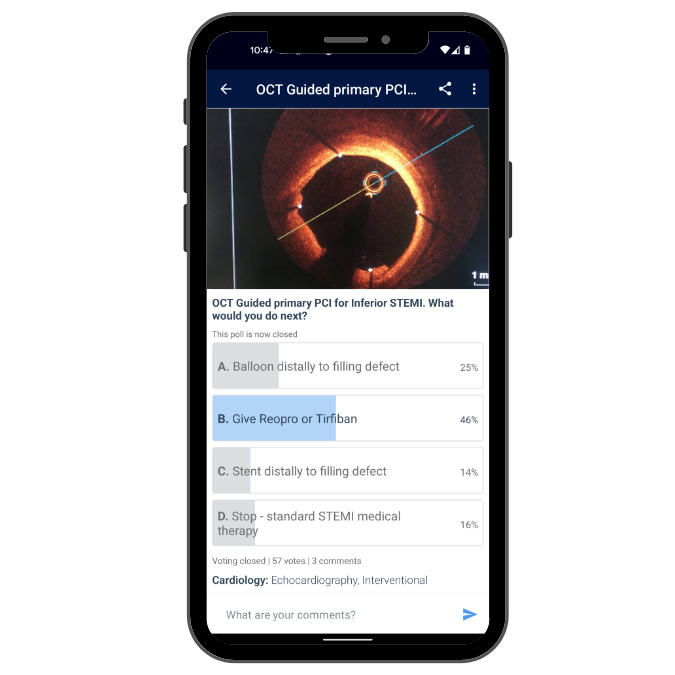 Polls to Gain Insight on Current Strategies
In diagnosis and management of many clinical conditions, there are often different approaches and nuances to clinical decision making. Polls on MedShr enable the clinical team to gain insights on current strategies. Many programs include a poll before and after a case series and/or learning module to assess the impact medical education may have had on clinician knowledge and performance, aligned to learning objectives.
MedShr's medical education programs are tailored, localized, and targeted
Case Studies: Targeted Medical Education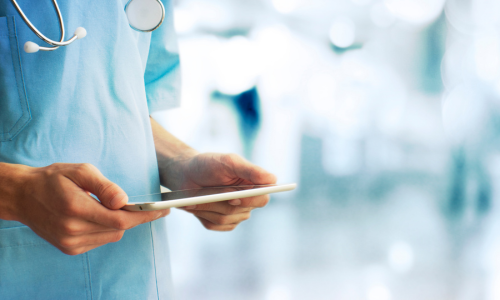 MedShr's medical education programs deliver impact.
Which components would we use for your medical education program?